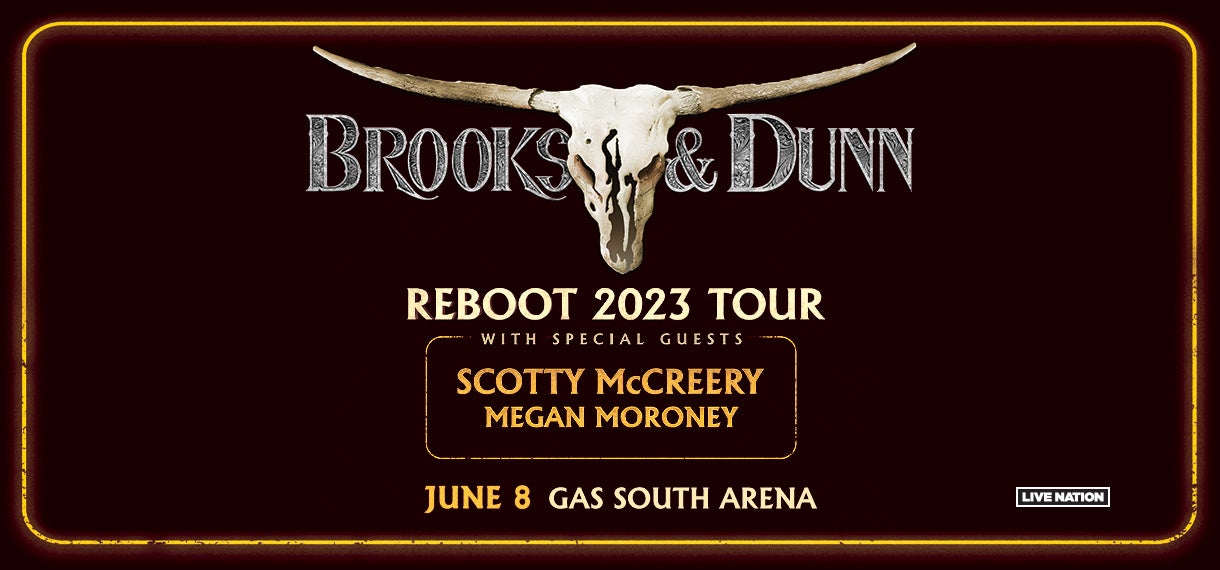 Brooks & Dunn: Reboot Tour 2023
w/ Scotty McCreery and Megan Moroney
Brooks & Dunn: Reboot Tour 2023
w/ Scotty McCreery and Megan Moroney
BROOKS & DUNN FRONT ROW VIP LOUNGE PACKAGE
• One (1) premium reserved seat in the front row to see Brooks & Dunn live!*
• One (1) parking space per order (where available)
• Invitation to the Neon Lounge, including:**
- Appetizers, cash bar and two (2) drink tickets***
- Memorabilia display of photos, awards and keepsakes highlighting Brooks & Dunn's iconic
life on and off the road
- Photo booth and more!
• Exclusive Brooks & Dunn tour poster, signed by Kix and Ronnie
• A Brooks & Dunn VIP merchandise gift
• An official Brooks & Dunn Neon Lounge laminate
• Photo opportunity in front of the VIP Backdrop to commemorate your evening
• Tour merchandise shopping before general doors
• Private VIP check-in location and on-site VIP hosts
BROOKS & DUNN PREMIUM VIP LOUNGE PACKAGE
• One (1) premium reserved seat in the first 5 rows to see Brooks & Dunn live!*
• Invitation to the Neon Lounge, including:**
- Appetizers, cash bar and two (2) drink tickets***
- Memorabilia display of photos, awards and keepsakes highlighting Brooks & Dunn's iconic
life on and off the road
- Photo booth and more!
• Exclusive Brooks & Dunn tour poster, signed by Kix and Ronnie
• A Brooks & Dunn VIP merchandise gift
• An official Brooks & Dunn Neon Lounge laminate
• Photo opportunity in front of the VIP Backdrop to commemorate your evening
• Tour merchandise shopping before general doors
• Private VIP check-in location and on-site VIP hosts
BROOKS & DUNN VIP LOUNGE PACKAGE
• One (1) premium reserved seat in the first 20 rows on the floor or in the lower bowl to see Brooks &
Dunn live!*
• Invitation to the Neon Lounge, including:**
- Appetizers, cash bar and two (2) drink tickets***
- Memorabilia display of photos, awards and keepsakes highlighting Brooks & Dunn's iconic
life on and off the road
- Photo booth and more!
• Exclusive Brooks & Dunn tour poster
• A Brooks & Dunn VIP merchandise gift
• An official Brooks & Dunn Neon Lounge laminate
• Photo opportunity in front of the VIP Backdrop to commemorate your evening
• Tour merchandise shopping before general doors
• Private VIP check-in location and on-site VIP hosts

BROOKS & DUNN VIP HOT TICKET PACKAGE
• One (1) premium reserved seat to see Brooks & Dunn live!*
• A Brooks & Dunn VIP merchandise gift
• A commemorative VIP laminate
• Photo opportunity in front of the VIP Backdrop to commemorate your evening
• Tour merchandise shopping before general doors
• Private VIP check-in location and on-site VIP hosts
We have instituted a clear bag policy to provide the most effective, contactless screening possible.
Additional Ticket Information
Ages 2 and older require a ticket. No Refunds. No Exchanges. Pricing, line up, and production setup may change without notice. Ticket purchases exceeding the posted ticket limit, either within a single order or across multiple orders, may be subject to order(s) being voided without notice.