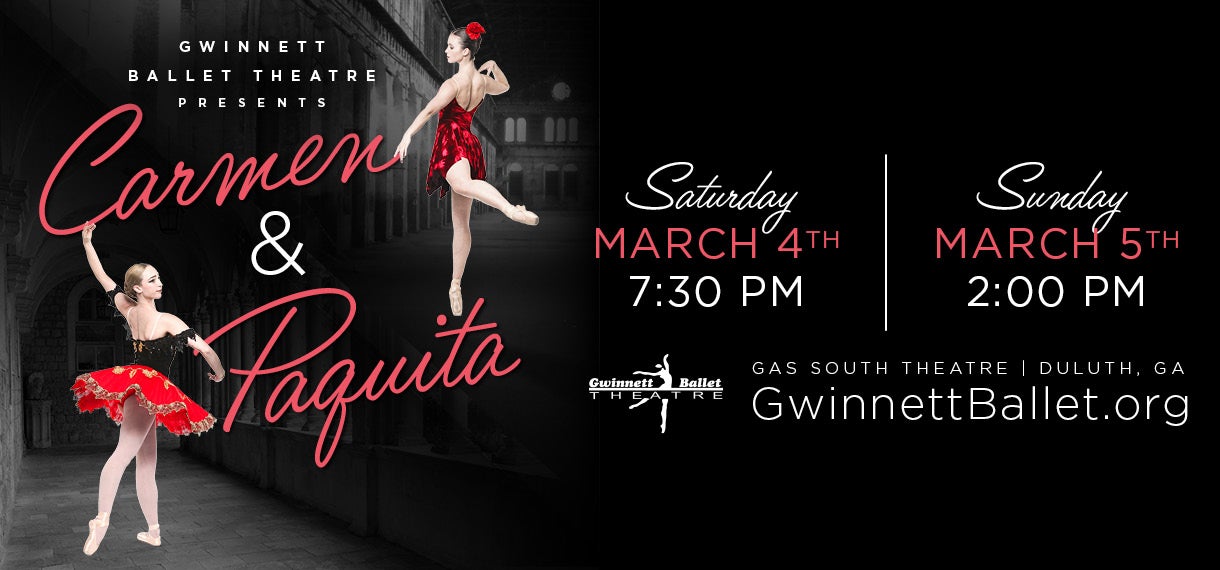 Carmen & Paquita
presented by Gwinnett Ballet Theatre
Carmen & Paquita
presented by Gwinnett Ballet Theatre
Event Info
Celebrate the "Romance of Spain" with Gwinnett Ballet Theatre with two short ballets in one production. Join GBT as the impetuous, hot-tempered, and cold-hearted Carmen plots with her gypsy smugglers to circumvent the city guard. This iconic story of love and jealousy is performed in sequence with the classical production of Paquita. In Paquita, a young Spanish gypsy girl finds out she is really of noble birth and was abducted by gypsies when she was an infant after the death of her parents.
Purchase parking here.
The option to purchase pre-paid parking ends the day prior to the event. On-site paid parking is available by credit card ONLY upon arrival.
Additional Ticket Information
Ages 2 and older require a ticket. No Refunds. No Exchanges. Pricing,
line up, and production setup may change without notice. Ticket purchases exceeding the posted ticket limit, either within a single order or across multiple orders, may be subject to order(s) being voided without notice.
Las edades de 2 años o más requieren un boleto. Sin reembolsos. Sin intercambios. Los precios, la alineación y la configuración de producción pueden cambiar sin previo aviso. Las compras de boletos que excedan el límite de boletos publicados, ya sea dentro de un solo pedido o en múltiples pedidos, pueden estar sujetos a que los pedidos se anulen sin previo aviso.