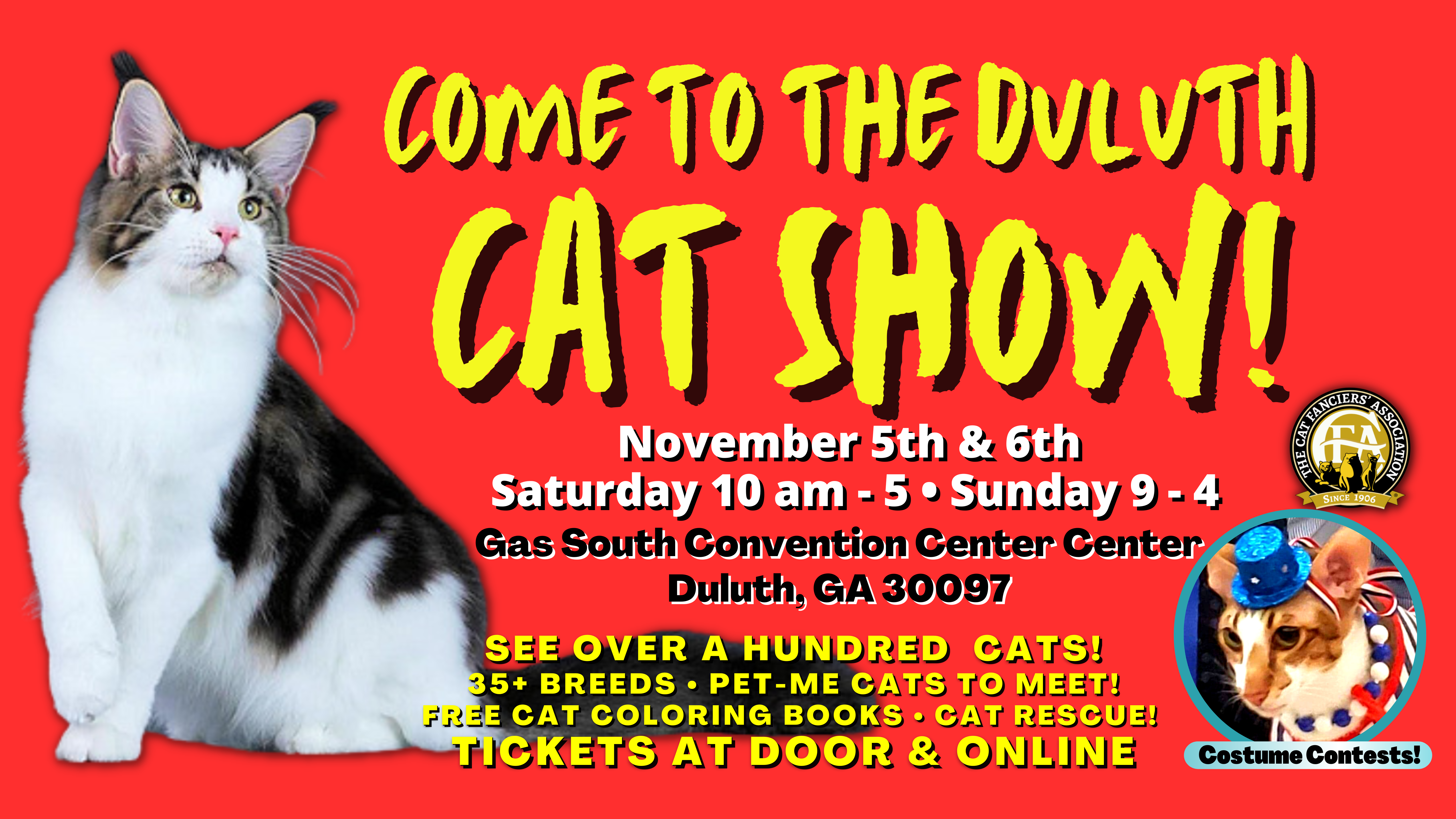 Duluth Cat Show & Expo
Duluth Cat Show & Expo
Event Info
🐈 𝗦𝗘𝗘 𝗨𝗣 𝗧𝗢 𝟯𝟬 𝗕𝗘𝗔𝗨𝗧𝗜𝗙𝗨𝗟 𝗖𝗔𝗧 𝗕𝗥𝗘𝗘𝗗𝗦!
~ 𝗦𝗛𝗢𝗪 𝗔𝗖𝗧𝗜𝗩𝗜𝗧𝗜𝗘𝗦 ~
👪 This is a 𝗙𝗔𝗠𝗜𝗟𝗬-𝗙𝗥𝗜𝗘𝗡𝗗𝗟𝗬 𝗘𝗩𝗘𝗡𝗧 that is fun for all ages!
🏆 𝗪𝗔𝗧𝗖𝗛 cats and kittens compete for Best in Show IN EACH of the 4 separate JUDGING RINGS per day!
😻 𝗙𝗥𝗘𝗘 cat coloring books for the first 100 children, each day!
👗 𝗖𝗔𝗧 𝗖𝗢𝗦𝗧𝗨𝗠𝗘 𝗖𝗢𝗡𝗧𝗘𝗦𝗧 around lunchtime on Saturday and Sunday! See fancy cats dress up!
🛒 𝗦𝗛𝗢𝗣𝗣𝗜𝗡𝗚 for cats and people with many vendors selling cat related items!

Come see over 180 purebred and household pet cats compete for top cat in different judging rings throughout the day. Meet Maine Coon Cats, Norwegian Forest Cats, Persians, Siamese, Devon Rex, Ragdolls, Bengals and up to 30 other breeds!

You can sit and watch cats on the judging table, or walk around and visit with the cats between judging. No matter what time you arrive you're bound to see your favorite breed being judged.
$5 event day parking is required for this event. Subject to change.
Additional Ticket Information
Please visit the official website below for ticketing and entrance information.