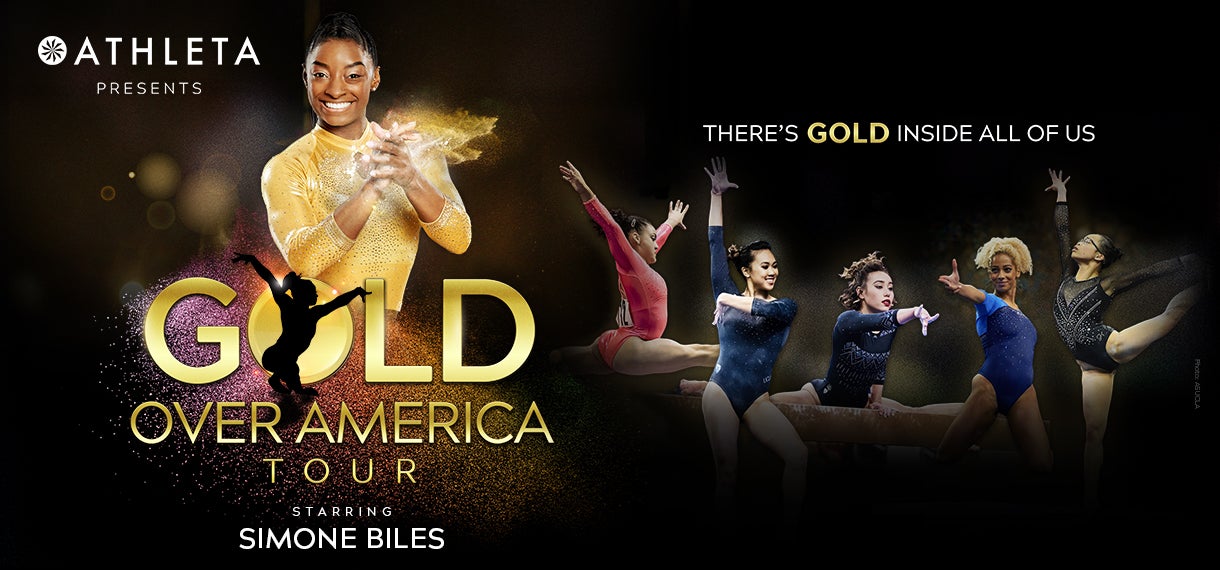 Athleta Presents Gold Over America Tour
Starring Simone Biles
Athleta Presents Gold Over America Tour
Starring Simone Biles
Event Info
The GOLD OVER AMERICA TOUR starring SIMONE BILES is a celebration of powerful female athletes who, together, are a united force proudly representing the sport of women's gymnastics and inspiring the next generation of athletes.
Biles and an all-star team of gymnasts featuring Laurie Hernandez, Katelyn Ohashi, Peng Peng Lee, Danusia Francis, Morgan Hurd and Jordan Chiles among others will celebrate world-class gymnastics in the afterglow of the world's preeminent international competition in a way you've never seen before… their way!
The GOLD OVER AMERICA TOUR will be a high-octane, fun-filled experience that will not only showcase athletic brilliance but also showcase each athlete's own inspiring championship journeys and bring the audience closer to the action than ever before.
GYMNASTICS CLUBS
A special gymnastics club sales program starts February 17, 2021. Please contact the group sales representative below for more information.
Michelle Juda
(470) 210-7414
ON-SALE
Tickets will go on sale to the public in the spring. CLICK HERE to sign up to receive more information!
PREMIUM & VIP EXPERIENCES
For more information on the Gold Over America Tour premium and VIP experiences CLICK HERE.
FAQs for Gold Squad Ultimate Upgrade and Chalk Talk – Chaperone Passes:
Any patron, 15 years or under, must be accompanied by a Parent/Guardian
One (1) adult will be permitted to chaperone a minor (15 years or under) or a group of minors, during activities.
We will permit one (1) chaperone per party. If there is already an adult in the party with a package or upgrade, an additional Chaperone Pass will not be permitted.
The chaperone must have their own concert ticket in order to enter the venue.
The chaperone cannot participate in either experience. They will be given a seat somewhere in the arena so they can see their child, but cannot sit with them during the Chalk Talk or have interaction with them if they are rehearsing for the Gold Squad.
A Chaperone Pass on its own does not give you a seat next to a child with a VIP package
A Chaperone Pass does not grant the individual VIP merchandise or access to any program-related activities.
If you would like a Chaperone Pass, please request one at the VIP check-in table on show day.
Please note that Chaperone Passes are a courtesy and offered for parties with unaccompanied minors. Passes are distributed at the tour's discretion and may not be granted if deemed unnecessary.
We have instituted a clear bag policy to provide the most effective, contactless screening possible.
Additional Ticket Information
Ages 2 & older require a ticket. No Refunds . No Exchanges. Pricing, line up, & production setup may change without notice. Ticket purchases exceeding the posted ticket limit, either within a single order or across multiple orders, may be subject to order(s) being voided without notice.
To order group tickets, please contact Michelle Juda at [email protected] or by calling (470) 210-7414.
Group Pricing:
$159.50 (regularly $171.50)
$119.50 (regularly $126.50)
$89.50 (regularly $96.50)
$69.50 (regularly $76.50)
$41.50 (regularly $46.50)
Upgrades, VIP Packages, and special gym club incentives are available.
Restrictions: Valid for groups of 10 or more. $10.00 handling fee per group order.
Order Deadline: Thursday, October 21st @ 12pm