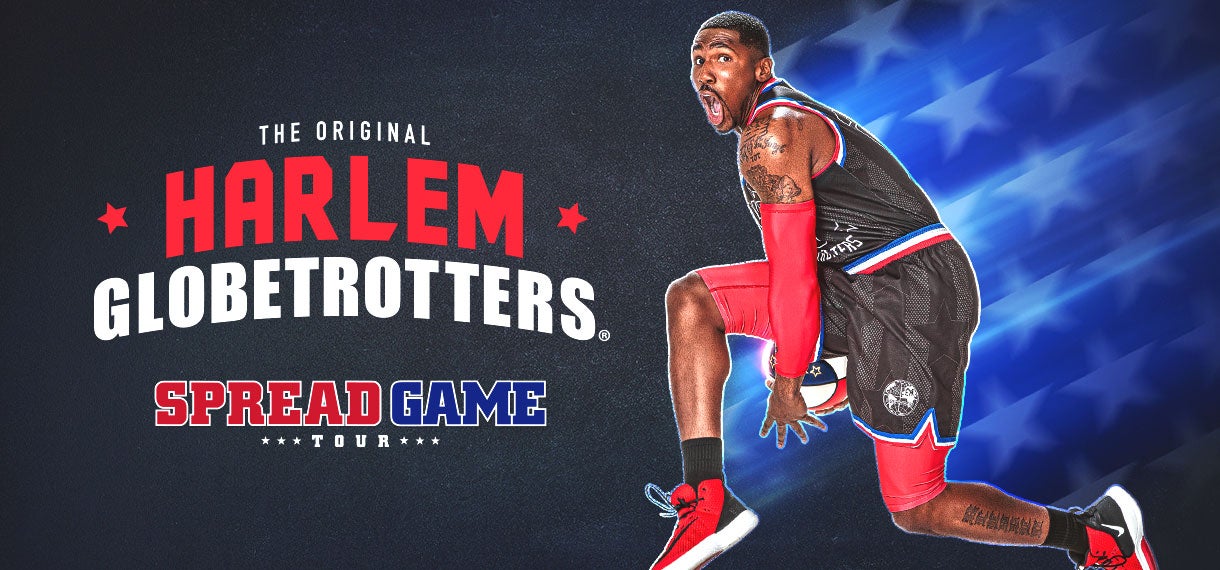 Harlem Globetrotters
Harlem Globetrotters
Event Info
The Spread Game Tour is a basketball event like no other. Ankle-breaking moves, jaw-dropping swag, and rim-rattling dunks are only some of the thrill you can expect from this fully modernized show. Part streetball from the players who defined it, part interactive family entertainment, the new tour will show off the best of the Globetrotters in a dazzling exhibition of talent and game.
All upgrades require admissions & upgrade tickets.
Magic Pass Pre-Show Event:
THIS IS AN OPTIONAL UPGRADE. TICKET TO THE MAIN EVENT IS ALSO REQUIRED. Everyone attending Magic Pass, regardless of participation, must have a Magic Pass ticket as well as a game ticket. If you plan on attending Magic Pass, please make sure you have BOTH tickets. This includes all children, as well as the parent(s)/guardian(s) wishing to accompany them. NO EXCEPTIONS.
Calling all hoop lovers! This is your chance to show that you've got GAME. Bring the fam and join the Harlem Globetrotters on the court before the game to shoot some hoops, show your skills, and get autographs and photos! The one-of-a-kind 30-minute pre-show, "Magic Pass," begins 90 minutes before tip-off and will create memories you'll never forget. All customers must have a game ticket AND Magic Pass for entry. Soft/rubber soled shoes must be worn on the court.
Celebrity Court Pass Offer Description:
The best game access for the biggest basketball fans. Your Court Pass gets you down to the floor for an up close and personal view of the Harlem Globetrotters during their pregame shootaround. You'll have exclusive access to the court, where you have the opportunity to see the players warm-up their World Record breaking shots and skills. Warm-ups begin 30 minutes before game time and will last for 20 minutes. Check-in courtside at the announcer's table upon arrival at the venue. Check in by 6:15 pm late arrivals will not be refunded. Children under 10 may not participate unaccompanied. Each person wanting to access the court must purchase the Celebrity Court Pass. This is an optional upgrade. A ticket to the main event is also required.
Player Meet & Greet Offer Description:
Before you see them on the court, this is your chance to meet them in person! A limited number of fans will have the opportunity to interact 1:1 with some of your favorite Harlem Globetrotters stars. Get autographs, learn from players and take photos. Meet and Greets take place prior to game time. Please check-in courtside at the announcer's table immediately after doors open. Check-in will be open until 30 minutes prior to game time. Check in by 6:10 pm late arrivals are not permitted and will not be refunded. Children under 10 cannot participate unaccompanied. Each person must purchase the Meet & Greet add-on to be allowed entry into the Meet & Greet. This is an optional upgrade. A ticket to the main event is also required.
VIP Bench + Merch Offer Description:
See the game from the Globetrotters' Bench! Includes one seat on the bench with the team, backstage meet & greet (photo/autograph opportunity), replica jersey, Tour program, Sharpie lanyard (merchandise items distributed upon arrival). For more info, email info@harlemglobetrotters.com. (Limited capacity = 8). Children under age 10 are not allowed to sit on the bench unaccompanied (parent/guardian must also have Bench ticket). Check in at announcer's table 45 mins before game time.
Parking for this event will be $10 and passes can be purchased here.
The option to purchase pre-paid parking ends 4 hours prior to the event. On-site paid parking is available by credit card upon arrival.
We have instituted a clear bag policy to provide the most effective, contactless screening possible.
Wearing a mask is strongly encouraged for this show. At this time proof of vaccination or a negative test is not required for entry into this event. However, requirements are subject to change based on local or tour mandates. A Know Before You Go will be e-mailed to AXS ticket purchasers prior to the event with the most up to date information.
Additional Ticket Information
Ages 2 and older require a ticket. No Refunds. No Exchanges. Pricing, line up, and production setup may change without notice. Ticket purchases exceeding the posted ticket limit, either within a single order or across multiple orders, may be subject to order(s) being voided without notice.