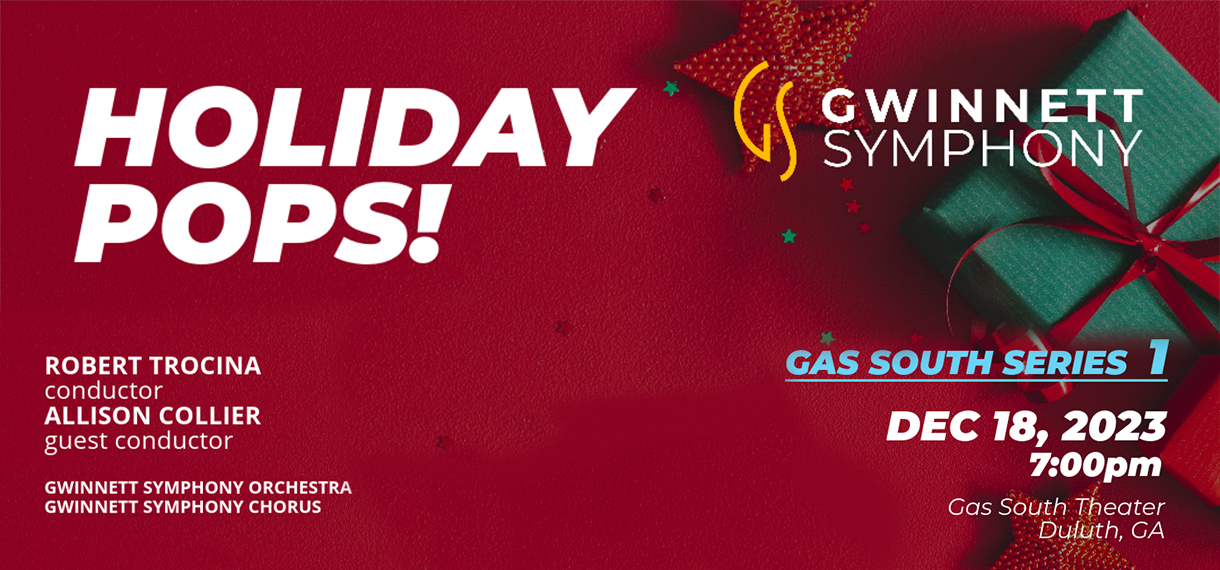 Holiday Pops
Presented by Gwinnett Symphony Orchestra
Holiday Pops
Presented by Gwinnett Symphony Orchestra
Event Info
Come join your favorite Holiday characters, including Frosty, Rudolph, and the GRINCH! as Gwinnett Symphony ushers in the Holiday season with a cheerful mix of uplifting choruses accompanied by a full orchestra! Audience members are invited to participate in a carol singalong while children are invited to come onto the stage and conduct the orchestra in a rousing rendition of "Sleigh Ride"! This performance is sure to bring the Christmas spirit to you and yours.
Purchase parking HERE
The option to purchase pre-paid parking ends at the start of the event. On-site paid parking is available by credit card upon arrival.
Additional Ticket Information
Ages 2 and older require a ticket. No Refunds. No Exchanges. Pricing, line up, and production setup may change without notice. Ticket purchases exceeding the posted ticket limit, either within a single order or across multiple orders, may be subject to order(s) being voided without notice.
Las edades de 2 años o más requieren un boleto. Sin reembolsos. Sin intercambios. Los precios, la alineación y la configuración de producción pueden cambiar sin previo aviso. Las compras de boletos que excedan el límite de boletos publicados, ya sea dentro de un solo pedido o en múltiples pedidos, pueden estar sujetos a que los pedidos se anulen sin previo aviso.