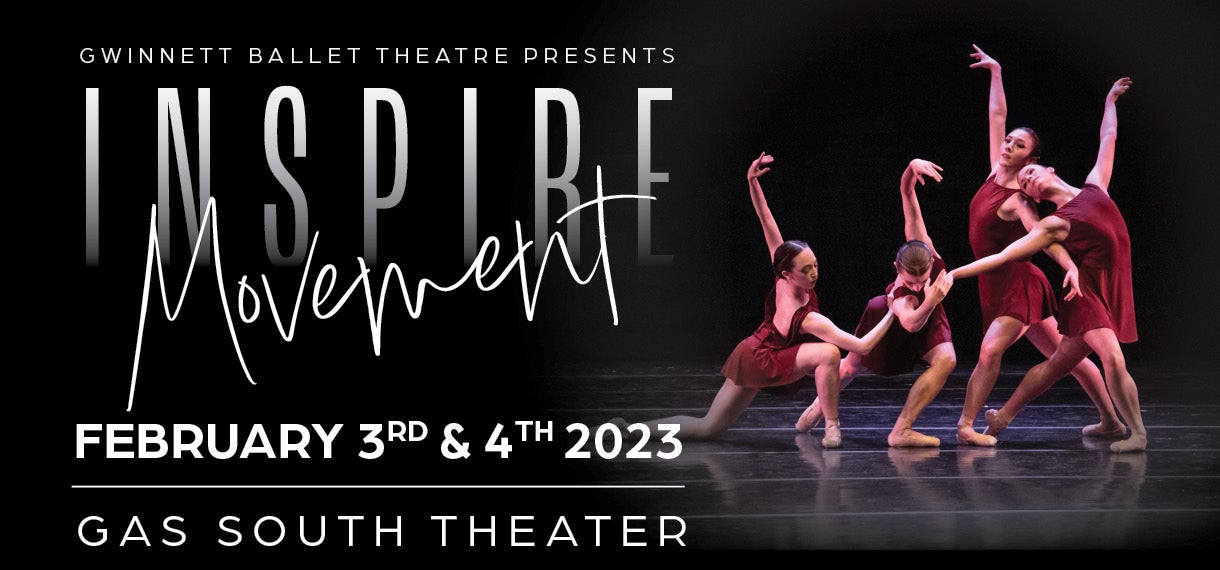 Inspire Movement
Presented by Gwinnett Ballet Theatre
Inspire Movement
Presented by Gwinnett Ballet Theatre
Event Info
Inspire Movement is a new concert hosted by Gwinnett Ballet Theatre designed to give artists a space to create original works set on professional dancers. Artistic Director Lori Zamzow-Wire first created the Inspire showcase as a classroom exercise but has since expanded the production into the Inspire Movement production for professional dancers and choreographers. Featuring works from talented choreographers local to Gwinnett County and the Metro Atlanta area, this concert is spread over two days and is packed with a diverse collection of genres performed by professional companies. We hope you will join us for this exciting celebration of dance and artistic expression!
Additional Ticket Information
Ages 2 and older require a ticket. No Refunds. No Exchanges. Pricing, line up, and production setup may change without notice. Ticket purchases exceeding the posted ticket limit, either within a single order or across multiple orders, may be
subject to order(s) being voided without notice.
Las edades de 2 años o más requieren un boleto. Sin reembolsos. Sin
intercambios. Los precios, la alineación y la configuración de producción pueden cambiar sin previo aviso. Las compras de boletos que excedan el límite de boletos publicados, ya sea dentro de un solo pedido o en múltiples pedidos, pueden estar sujetos a que los pedidos se anulen sin previo aviso.