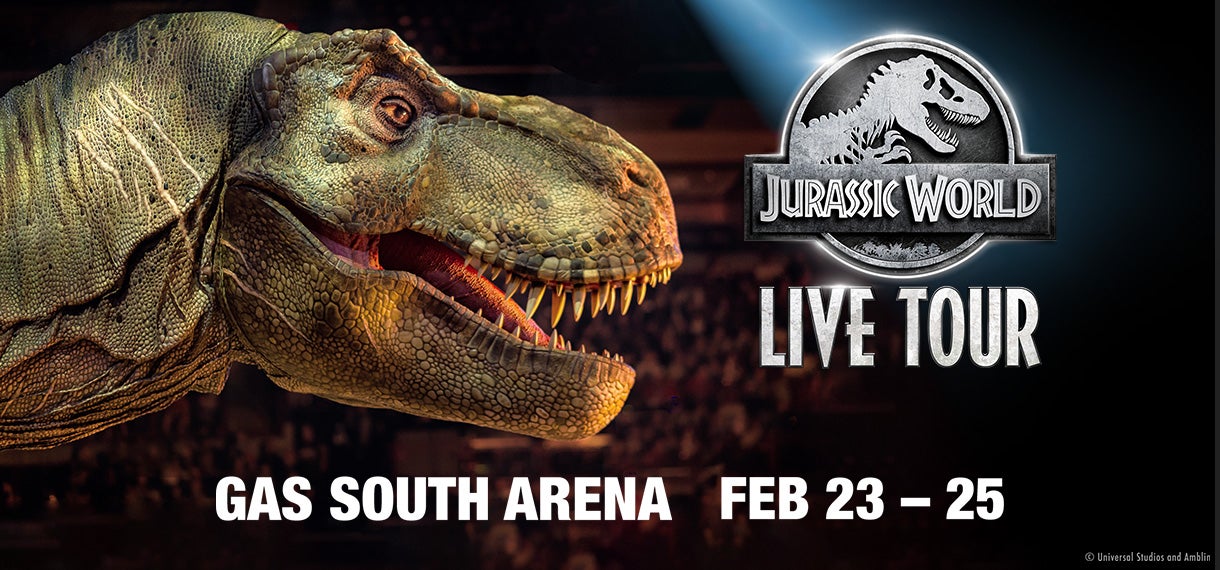 Jurassic World Live Tour
Jurassic World Live Tour
Event Info
Jurassic World comes to life in an action-packed, live arena show! Your trip to Isla Nublar takes a terrifying turn after the Indominus rex escapes and causes chaos in the park! Join forces with a team of scientists to unravel a corrupt plan and save Jeanie, a Troodon dinosaur, from a terrible fate. Along the way, experience some of Jurassic World's most iconic dinosaurs including Blue th e Raptor, the mighty T. rex and more!
Visit JurassicWorldLiveTour.com for more information.

Preshow Experience:
Get your Jurassic World Live Tour adventure started with a special preshow experience. Get up close and personal with some of your favorite Jurassic World dinosaurs and vehicles…and it's included with your ticket! This special preshow
experience includes photo opportunities with:
Triceratops, Stegosaurus, Baby Bumpy, Jurassic World Jeep, Gyrosphere
The preshow starts one hour before showtime. Don't forget to tag us in all your photos #JurassicWorldLiveTour

All persons two and older must have a ticket to enter arena. Note: Costumes not permitted for guests 14 years & older.
Additional Purchase Options
Jurassic World Live Tour - Official Souvenir Tag!
The Official Jurassic World Live Tour Souvenir TAG! It is an Exclusive, Limited Edition collectible.
Features cool, 3D graphics and effects!
Individually numbered, weatherproof, and includes a lanyard!
Your very own collectible memory of the event and is personalized with the location you attend!
Size: 3"x5"
Wear it… collect it!
The price includes shipping/handling. If you order at least 14 business days prior to your event, your tags will be delivered on or before the event date. Orders placed after this time are NOT guaranteed to arrive prior to the event but will be delivered within 3 weeks of your order. Only shipped to US & Canada.
Any refunds or issues with merchandise must be received within 30 days of the performance you attended. Look for the Official Jurassic World Live Tour Souvenir Tag during your purchase process.

Jurassic World Live Tour - Dino Decoder
Be part of Jurassic World LIVE TOUR with your very own Jurassic World Dino Decoder, featuring interactive technology that brings you straight into the action. The Jurassic World Dino Decoder lights up to allow you to follow Jeanie the Troodon's change of emotions throughout the show. It comes with an official lanyard so your decoder is with you at all times.
REDEMPTION: Bring your ticket to the Ticketmaster Redemption location at the Jurassic World Live Tour merchandise stand.
Jurassic World Live Tour Light-Up Wand
Light up your experience at the Jurassic World Live Tour with this exclusive light up wand! This wand is the perfect keepsake for all Jurassic World fans. One press of the button is all it takes for it to illuminate the night of the show in red, blue and green lights! Featuring the Official Jurassic World Logo and standing 22" high, this wand comes complete with batteries, so you won't miss a chance to light up the night at Jurassic World Live Tour. Not for children under 3.
REDEMPTION: Bring your ticket to the Ticketmaster Redemption location at the Jurassic World Live Tour merchandise stand.
We have instituted a clear bag policy to provide the most effective, contactless screening possible.
Parking for this event is $10 and passes can be purchased below:
The option to purchase pre-paid parking ends at the start of the event. On-site paid parking is available by credit card upon arrival.
We are a cashless venue and all venue purchases must be made with a credit or debit card. No cash payments will be accepted. Get your items faster, safer and carry less by going cashless with us!
Additional Ticket Information
Ages 2 and older require a ticket.  No Refunds.  No Exchanges.  Pricing, line up, and production setup may change without notice. Ticket purchases exceeding the posted ticket limit, either within a single order or across multiple orders, may be subject to order(s) being voided without notice.
 Las edades de 2 años o más requieren un boleto.  Sin reembolsos.  Sin intercambios.  Los precios, la alineación y la configuración de producción pueden cambiar sin previo aviso. Las compras de boletos que excedan el límite de boletos publicados, ya sea dentro de un solo pedido o en múltiples pedidos, pueden estar sujetos a que los pedidos se anulen sin previo aviso.