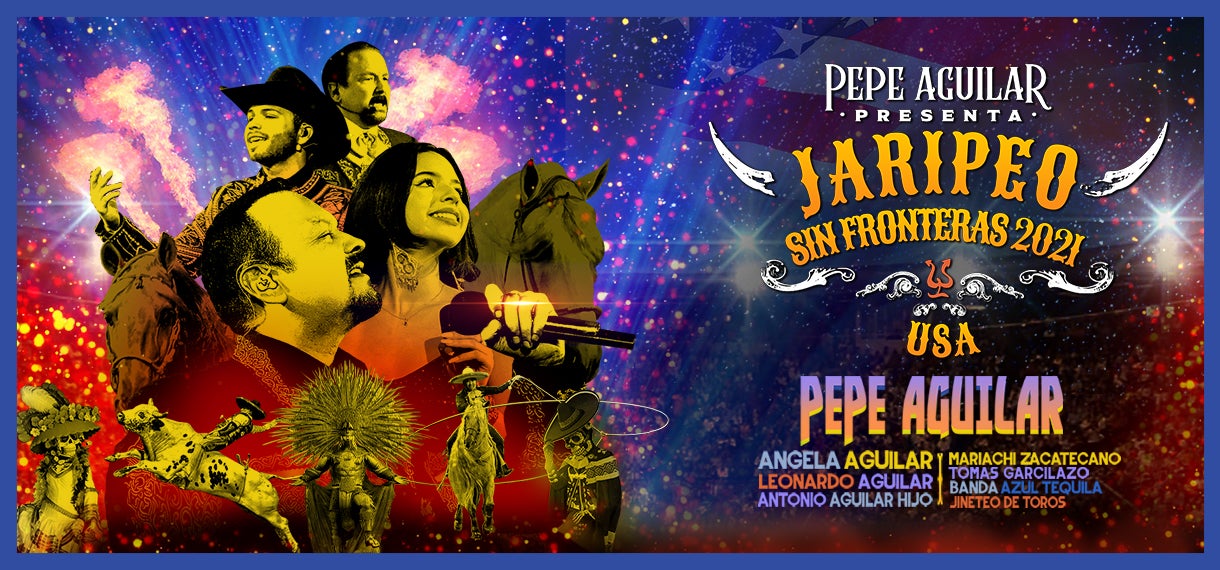 Pepe Aguilar
with Leonardo Aguilar and Angela Aguilar
Pepe Aguilar
with Leonardo Aguilar and Angela Aguilar
Event Info
Conceptualized by Pepe Aguilar himself, Jaripeo sin Fronteras tour experienced tremendous success for two consecutive years across the U.S. and Mexico, filling every single venue it made stops at. As live music events finally resume this year, Jaripeo sin Fronteras will continue its unstoppable momentum and become one of the first tours to return to the United States in 2021, allowing fans to once again enjoy the unique magic and traditions of the legendary Aguilar family.
Backed by his band El Mariachi "El Zacatecano" and the musical accompaniment of the acclaimed regional Mexican band Banda Sinaloense, fans each night will witness Pepe perform alongside his brother Antonio Aguilar, Hijo; his talented daughter, Grammy and Latin Grammy nominee Ángela; and his son Leonardo, two-time Latin Grammy nominee. A massive production involving more than 150 people, including 40 stage musicians alone, the tour offers a spectacular, once-in-a-lifetime experience for those in attendance, combining sensational music sets with bull fighting and rodeo events, such as horse riding and equestrian acrobatic performances.
Considered one of the most renowned figures in music, Pepe Aguilar has been delivering hit after hit for more than three decades, garnering praise as one of the most beloved voices in the Spanish speaking world. His innate musical talent has led to the creation of an impressive career that has withstood the test of time, leading to endless recognition and countless awards, including four American Grammys and five Latin Grammy awards.
Parking for this event will be $10 and passes can be purchased here.
The option to purchase pre-paid parking ends 4 hours prior to the event. On-site paid parking is available by credit card upon arrival.
We have instituted a clear bag policy to provide the most effective, contactless screening possible.
Wearing a mask is strongly encouraged for this show. At this time proof of vaccination or a negative test is not required for entry into this event. However, requirements are subject to change based on local or tour mandates. A Know Before You Go will be e-mailed to AXS ticket purchasers prior to the event with the most up to date information.
Additional Ticket Information
Ages 2 & older require a ticket. No Refunds. No Exchanges. Pricing, line up, & production setup may change without notice. Ticket purchases exceeding the posted ticket limit, either within a single order or across multiple orders, may be subject to order(s) being voided without notice.