July

19
Infinite Takes the Cake
Written by: Hannah Easterling, Marketing Intern
Published: July 19th, 2018
---
I don't think I'll ever be as excited as I was when I found out I would be the marketing intern at Gas South District for the summer of 2018. Like, I'm pretty sure my life peaked when I read my acceptance email. Excited, but clueless as to what my responsibilities would be, I started my first day in May. I quickly learned about, quite possibly, the coolest responsibility of the department – Gifts.
You heard it here first, folks: The Marketing Department chooses customized, unique Artist gifts which are given prior to each performance at the Arena. This summer I had the opportunity to help with a few of these gifts, and I wanted to share them with you!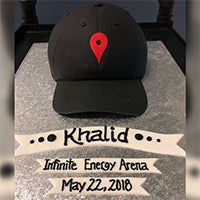 First up, was the Khalid Roxy Tour. I soon found out there is a lot of social media stalking that goes into these gifts. After researching all there is to know about his music, interests, and hobbies we decided on a custom cake. The cake was a reference to his song, "Location" which was released in 2017. My favorite part about deciding on a gift is the freedom of creativity. As you can see, we marked "Duluth" to make his cake unique to our arena's location.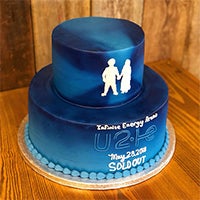 Next, was the U2 Innocence + Experience Tour. The show was completely sold out and one of the highest grossing events our arena has ever seen. With the hype that followed this concert, we wanted to make sure we chose a gift that measured up. I mean, what do you buy U2?? After days of brainstorming, the team came up with the idea of a memory book. The book consisted of fan art, memories, and pictures submitted by some of the most loyal fans in the community. And of course, we got them a cake as well - It's kind of our thing here!
Up next was the sassy and timeless, Shania Twain. Shania's Now Tour was her first tour in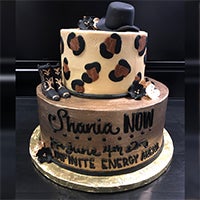 years AND her 20thperformance in Atlanta. I mean, that's a pretty big deal. So we wanted to design a cake that acted as a memoir of her successes over the years. The top hat on the cake was a reference her iconic song, the one you're probably singing in your head now, "Man! I Feel Like a Woman." We added the cheetah print design because, well, its Shania Twain!!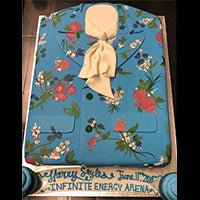 One of my personal favorites, and quite possibly the loudest concert I have EVER been to, was the Harry Styles Live On Tour. Styles is famous for ... you guessed it, his style!! So, his custom cake was the perfect opportunity to showcase his famous Gucci suit which can be seen in his music video for his new song, "Kiwi."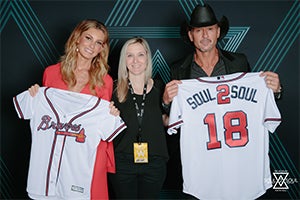 The Tim McGraw + Faith Hill Soul2Soul 2018 World Tour was next. We picked out matching Atlanta Braves Jerseys for them. I mean what else do you get for one of the most beloved couples in country music? This was also a chance to shout out what an incredible season our Atlanta Braves are having this year!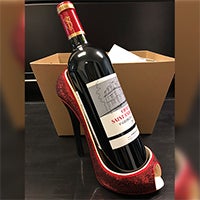 Last, but certainly not least, was Sam Smith's The Thrill of It All Tour. After searching and searching for the appropriate gift, the team decided on French wine and the most unique wine holder I think I have ever seen. Sam Smith is famous for making a statement in his very own pair of red high heels, so we felt it was only necessary to add to his collection.
Special thanks to The Baking Grounds Bakery in Buford, for making all our cake dreams come true!!