Written by: Claire Ortiz, Marketing Intern
Published: October 16, 2018
---
When I started my internship at Gas South District this Fall, it became apparent to me that many people I talked to were confused about different aspects of IEC. So, I compiled a list of common misconceptions and some evidence to help you get it straight!
Myth
Infinite Energy Arena is the only building at Gas South District.
Fact
Gas South District is the name that refers to the whole campus. There are 4 buildings at Gas South District.
The Arena hosts concerts and larger events such as an Ed Sheeran concert, Georgia Swarm or Atlanta Gladiators game.
The Forum hosts trade shows and festival type events like the Georgia Bridal Show and JapanFest.
The Theater hosts more intimate performances like the Nutcracker.
The Hudgens Center for Art and Learning is an education and exhibition center.
Myth
I can pay my bills at Gas South District.
Fact
InfiniteEnergyCenter.com is all about the campus and NOT where you pay your electric bill. Infinite Energy, the natural gas and electricity company, entered into a 20-year naming rights partnership with the venue in 2015, which is why we share a name. So, if natural gas and electricity are what you are looking for, please visit InfiniteEnergy.com.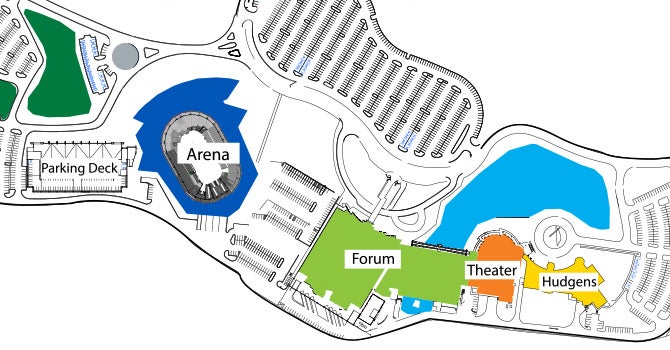 Myth
I can't bring my bag in and selfie sticks aren't allowed. That must mean that is the rule of Gas South District.
Fact
Every show we host is different. Rules on what guests can bring to a concert vary by show and the artist. For more information on what you can and cannot bring into an event and general safety procedures please visit our Security and Safety page.
Myth
I bought tickets from AXS.com, I think that's a third-party vendor.
Fact
To be sure you are buying tickets directly from us, please visit our website, InfiniteEnergyCenter.com and click on the "Buy Tickets" tab or search for the event you're interested in. We use AXS.com for all of our official ticketing.
Myth
I need to purchase a parking pass!
Fact
Parking is FREE at Gas South District, so you do not need a pass. Premium clients do receive preferred parking in our parking deck. For more information on parking, please visit our Directions and Parking page.
Myth
There's no way the concert could sell out so quickly!
Fact
Shows have different seating capacities based on the stage and production set-up. Fan club and pre-sale opportunities, along with the venue capacity, all play a role in the number of tickets available. It is possible for a show to sell out quickly due to the high volume of people purchasing tickets.
And there you have it! I hope this will help you better prepare for your next event at Gas South District. We can't wait to see you!