Dec

9
PBR's Elite Tour bucks back into Duluth for third...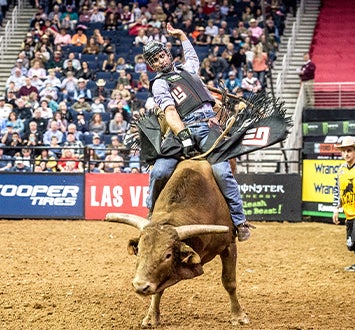 ---
PBR's Elite Tour bucks back into Duluth for third consecutive season
Tickets for PBR Unleash The Beast's Gwinnett Invitational on sale now
Duluth, Ga. – For the third consecutive season, and eighth time in league history, PBR's (Professional Bull Riders) elite tour, featuring the Top 35 bull riders in the world and rankest bucking bulls in the nation, will invade Duluth, Georgia. The Gwinnett Invitational, the 10th stop on the 2020 premier PBR Unleash The Beast, will buck into Infinite Energy Arena for two days of edge-of-the-seat action on March 14-15.
Last season more than 15,000 fans in attendance across two days of action at the record-setting event in the Peach State witnessed Jose Vitor Leme (Ribas do Rio Pardo, Brazil) capture his first Unleash The Beast event win of 2019. The Brazilian phenom entered Round 2 eighth courtesy of an 85.25-point ride aboard Slinger (Torres Brothers Bucking Bulls LLC), and he vaulted to the top of the leaderboard after riding Texas Comfort Air's First Blood (Cooper/Scruggs Bucking Bulls) for a Round 2-best 87.75 points.
Leme then brought the electric Georgia crowd to its feet in cementing his victory with a 91.25-point ride aboard Big Black (K-C Bucking Bulls/Joe & Nina Webb). Leme, who began the event No. 5 in the world, more than 900 points behind then No. 1 Jess Lockwood (Volborg, Montana), earned 600 world points and climbed to No. 3, just 335.84 points removed from the top spot.
Following his win inside Infinite Energy Arena, Leme's dominance continued, concluding the regular-season No. 1 in the world, winning three additional Unleash The Beast tour stops, and leading the league in most 90-point rides (11), round wins (18) and bulls ridden (47).
The Brazilian cowboy, however, was challenged every step of the way, in one of the tightest world title races in league history, trading positions with No. 2 Lockwood and No. 3 Chase Outlaw (Hamburg, Arkansas). After a ride-for-ride slug fest throughout the five days of action at the season-culminating Unleash The Beast World Finals, Lockwood completed one of the PBR's biggest comebacks to eclipse Leme in the standings, becoming the youngest two-time PBR World Champion in league history.
The 2019 event in Duluth also featured Georgia's own Sean Willingham (Summerville), who will be making yet another return from injury in 2020 after breaking his leg in March 2019, forcing him to the sidelines for the remainder of the season. A past winner of the Duluth event (2014), Willingham wasn't able to convert in front of the home state crowd, going 0-for-2.
Other winners in Duluth have been: Claudio Montanha Jr. (2018), Tanner Byrne (2016), J.B. Mauney (2011), Guilherme Marchi (2010) and Mike Lee (2008). In addition to the stops in Duluth, PBR has also hosted events in Atlanta and Columbus, Georgia, collectively visiting the state fifteen prior times. The other event champions include: Chris Shivers (Atlanta – 2012), Kasey Hayes (Atlanta – 2007), Jake McIntyre (Atlanta – 2005), Adriano Moraes (Atlanta – 2004), Cory Melton (Atlanta – 2003), Adam Carrillo (Columbus – 2001), Terry Don West (Columbus – 2000) and Cody Hart (Columbus – 1999).
The Gwinnett Invitational is crucial in the championship race to the PBR World Finals in early November, awarding a gold buckle and million-dollar bonus to the world's best bull rider. The riders competing in Duluth are anticipated to be led by reigning, and two-time, PBR World Champion Lockwood, along with title runner-up and reigning Gwinnett Invitational champion Leme, in addition to top-ranked contenders Joao Ricardo Vieira, Cody Teel and Matt Triplett. Lockwood will also be joined by numerous World Champions including Cooper Davis (2016) and Silvano Alves (2014, 2012, 2011).
The bull riding action begins with Round 1 at 6:45 p.m. ET on Saturday, March 14, concluding with Round 2 and the Championship Round at 1:45 p.m. ET on Sunday, March 15. All 35 bull riders will get on one bull each in Round 1 and 2. Following Round 2 on Sunday afternoon, the riders' individual two-round scores will be totaled with the Top 15 advancing to the championship round for one more out and a chance at the $30,000 event title.
Tickets for the two-day event are on sale now and start at $22. They can be purchased at the Infinite Energy Arena Box Office, online at InfiniteEnergyCenter.com or AXS.com, or by phone at (770) 626-2464 or by dialing PBR Direct at 800-732-1727.
For an enhanced PBR experience, fans can now purchase PBR Elite Seats and Premium Experiences, which provide a behind-the-scenes look into the toughest sport on dirt.
These premium options include early entry; tickets to a premium seating section; a catered reception; a pre-event, backstage tour by a PBR Host, featuring a PBR 101 presentation and visit with the sport's fiercest bovine athletes; and the opportunity for photos and autographs from the sport's top stars.
For more information on the upgraded experiences, fans can contact PBR Direct at 800-732-1727.
The Duluth Invitational will be the tenth event during the premier series' 2020 season. The season begins in New York City at "The World's Most Famous Arena," Madison Square Garden, and will include trips to Chicago, Los Angeles and St. Louis, to name a few, before concluding with the PBR World Finals in Las Vegas on Nov. 4-8, 2020 at T-Mobile Arena.
About the PBR (Professional Bull Riders)
The world's premier bull riding organization began as a dream of 20 bull riders 25 years ago and now operates in five countries. On its elite tour, the organization features the Top 35 bull riders in the world and the top bulls in the business. The televised PBR Unleash The Beast, along with the PBR Velocity Tour (VT), the PBR Touring Pro Division (TPD) and the PBR's international circuits in Australia, Brazil, Canada and Mexico have paid nearly $184 million in earnings to its athletes. Thirty-five bull riders have earned more than $1 million, including two-time PBR World Champion J.B. Mauney who is the top-earning athlete in Western sports history with more than $7.3 million in career earnings. PBR is part of the Endeavor (formerly WME | IMG) network. For more information on the PBR, go to PBR.com, or follow on Facebook at Facebook.com/PBR, Instagram at Instagram.com/PBR, and YouTube at YouTube.com/PBR.