Nov

25
World No. 1 Rafael Nadal to play tennis match at...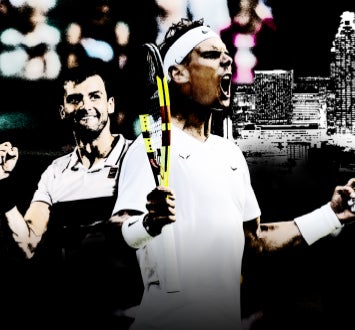 Published: November 25, 2019
---
World No. 1 Rafael Nadal to play tennis match at Infinite Energy Arena
Rafael Nadal, the top-ranked ATP tennis player in the world and a 19-time Grand Slam champion, will play a match at Gwinnett's Infinite Energy Arena as part of a special event next year.
Nadal, 33, will take on eight-time ATP Tour singles winner Grigor Dimitrov on March 2, 2020. Nadal won his 12th French Open and fourth U.S. Open this season to push his career Grand Slam total to 19, one behind all-time leader Roger Federer. Dimitrov will finish in the world's top 20 after a strong past couple of months, reaching the semifinals at the U.S. Open as well as the ATP Masters 1000 tournament in Paris this past week.
The Nadal-Dimitrov match is part of The Premier Live Atlanta Challenge at the 13,000-seat Infinite Energy Arena. The pre-event festivities include a performance from Atlanta-based band Yacht Rock Revue. The event is paired with the March 1 Charity Dinner and Auction with meet-and-greet opportunities benefiting Rafa Nadal Foundation and the National Tennis Foundation.
Tickets to Premier Live Atlanta went on sale Monday at www.premierlive.com.
"It has been exciting working with both Rafa and Grigor over the years, and I am honestly thrilled that together we are able to bring this legendary event to my hometown," said Trevor Short, co-found of Premier Live. "It will be a weekend of epic tennis, networking, Southern hospitality and fundraising for two extraordinary charities."
Doors at the Infinite Energy Arena in Gwinnett will open at 6 p.m. followed by Yacht Rock Revue entertaining the crowd by covering late 1970s and early 1980s popular soft rock hits through their sing-along style at 6:45 p.m. before Nadal and Dimitrov take center court. A portion of the Premier Live Atlanta Challenge event proceeds goes back to support Rafa Nadal Foundation and the National Tennis Foundation.
"I am looking forward to visiting Atlanta and playing Grigor in front of this huge tennis community," Nadal said. "I am especially excited to raise funds for the Rafa Nadal Foundation both from the Charity Dinner and Auction as well as the Premier Live Atlanta Challenge Exhibition."
An intimate Charity Dinner and Live Auction organized by the National Tennis Foundation will take place the evening of March 1 to benefit the Rafa Nadal Foundation and National Tennis Foundation. The dinner location will be announced soon. Cocktails start at 6:30 p.m. followed by dinner, meet-and-greet and photo opportunities with both Nadal and Dimitrov. Seating is limited.
"I am happy for this match with Rafa down South," Dimitrov said. "I look forward to playing in front of the amazing Atlanta crowd who is always so supportive of me."